La Napoule Art Foundation's guiding principle is to encourage artists to engage in cultural interchange and the creation of art that impacts the world for the common good. LNAF welcomes those engaged in a wide spectrum of artistic practice and varied backgrounds.
APPLICATION DEADLINES
Group Residency | Spring 2018
Deadline: October 2, 2017
Residency:  February 27 – March 27, 2018
Eligibility: Open to individual artists – all disciplines and nationalities
Application: LNAF.slideroom.com
Denver Visiting Artist Program
Deadline: Rolling – Apply anytime
Residency:  Varying (4 weeks) following participation as Visiting Artist
Eligibility: Open to artists interested in working with students in Denver-area schools
Application: LNAF.slideroom.com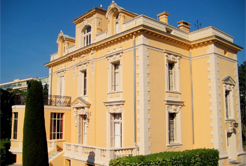 Residents are housed in single rooms in the recently renovated Villa Marguerite, located across a small street from the Château. Rooms are equipped with private baths and each has a sea or garden views. Wireless Internet is available in the Villa's common areas. Linen service is provided weekly. There is a washing machine and clothesline at the Villa for residents' use.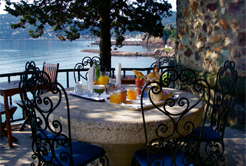 LNAF provides breakfast and dinner on weekdays. Meals are often held in the Château's gothic dining room, providing the opportunity for exchange and community. For lunches and weekend meals, residents have full access to the kitchen in the Villa Marguerite to store and prepare their own food. The village of La Napoule also offers numerous restaurants and cafés just a few blocks from the Villa and Château.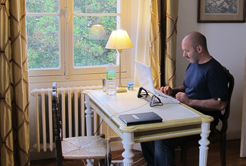 LNAF provides each resident with a studio space in which to work. Studios are located throughout the Château property, some inside the castle and some in towers on its grounds. (Artists are asked to address any specific requirements for studio space in their applications.)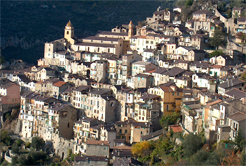 Long sought after for its exquisite sunlight, the Côte d'Azur has inspired and produced centuries of artists. Additionally, its rich saturation of cultural institutions­–museums, theaters, festivals and research centers–make it one of the most vibrant communities in which to live.
Selection Criteria
Applications are reviewed by an international panel according to the following criteria:
■  Clarity of artistic vision as articulated in the artist statement and work samples
■  Persuasive evidence that the applicant is committed in purpose and practice
■  Clear evidence that the artist works at a professional level in his/her field
■  Clear indications that the applicant is moving forward with his/her project; and of the significance and critical role that the residency at La Napoule will play in that project
■  Willingness to work in a dynamic environment that encourages interaction with other artists
■  Appropriate adherence to application guidelines
Eligibility Guidelines
LNAF Residencies are open to all emerging and established artists over the age of 18 with no limitation on artistic discipline or nationality. Participants are expected to be able to communicate effectively in English or French.
Please note:
■  Artists may apply once every calendar year.
■  Although alumni are encouraged to apply, priority may be given to artists who have not yet received an LNAF Residency.
■  Due to the historic nature of our facilities, we regret that the Château and Villa are not handicapped accessible at the present time.
■  Couples must apply separately. There are no provisions for family, friends, children, or pets at the Château.

Residency Expectations
To enrich the artist's experience, it is expected that each resident will use every available opportunity, including mealtimes, to build community and friendship, and to exchange ideas and experiences.
■  Work and living space must be properly maintained and left in the same condition in which it was found.
■  It is expected that each participant will conduct his or herself with a high level of professionalism while in residence.
■  All equipment and materials are the responsibility of the artist.
■  The use of illegal drugs or the possession of such drugs on the premises is prohibited.
■  There is a fee for any overnight guests, based on availability. Prior approval is required.
Marketing & Publicity
LNAF strives to promote artists who participate in the LNAF Residency Program. Opportunities for media and community exposure include:
■  Press releases sent to major publications
■  E-blasts sent to our supporters
■  Stories featured in our print and electronic communications with funders and friends
■  Spotlight feature on our blog
■  Listing in the Residency Archive on LNAF website
■  Residents may also have the opportunity to participate in exhibitions or outreach programs in the US or abroad.
Non-discrimination Policy
LNAF encourages artists from all backgrounds to apply. The Foundation does not discriminate against anyone on the basis of age, race, sex, gender identity, religion, disability, marital status, sexual orientation or national origin in its admission policies or in access to its activities. [Please note that due to the historic nature of our facilities, we regret that the Château and Villa are not handicap accessible at the present time.]
Our
residency statistics
at a glance
Additional Information
For additional information, please download our Resident Information Packet