LNAF Partners with Moving Image to Award Janet Biggs French Riviera Residency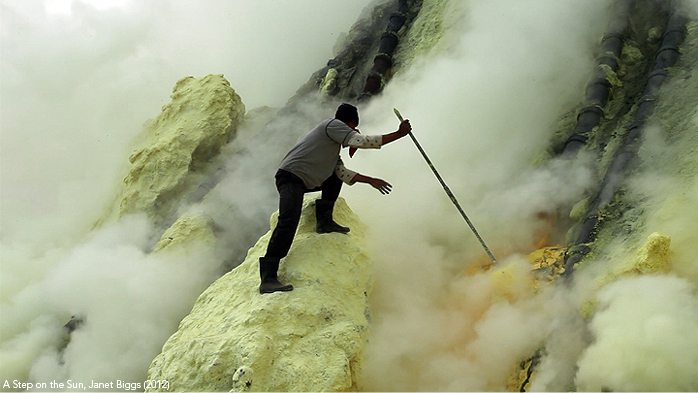 New York, NY – La Napoule Art Foundation (LNAF) has partnered with Moving Image to award photographer and video artist Janet Biggs a place in the Beyond Sandy Residency. Biggs is one of eleven artists affected by Hurricane Sandy to receive a month-long stay at the Château de La Napoule in Mandelieu-La Napoule, France beginning in October 2013.
As a sponsor of the March 2013 Moving Image Fair in New York, LNAF announced that one place in the Beyond Sandy Residency would be reserved for an artist from the fair. Allyson Melchor, an LNAF Trustee based in Manhattan who has spearheaded this Program, explained "The Moving Image Fair caters perfectly to the demanding and dynamic nature of video art – it is a medium that insists on the viewer's attention. We felt this perspective would make a valuable addition to a residency that invites artists to explore the lasting effects of this storm."
The region's artists lost studios and storage spaces, homes, materials, and irreplaceable pieces of work in the Hurricane Sandy. Moved by this incredible damage, the LNAF Board of Trustees created a special Beyond Sandy Residency. This Program offers artists who suffered the most devastating effects of the hurricane a place for respite, reflection, and exchange. Residents will stay in the Château de La Napoule on French Riviera, removed from the distractions of daily life and surrounded by the spectacular views and light of the Mediterranean. The setting provides resident artists an unencumbered setting to exchange ideas and create.
Edward Winkleman, co-founder of Moving Image, stated "We are delighted to collaborate with LNAF on their very generous response to the damage sustained across the New York art community in the wake of Sandy. Many artists and galleries were devastated by the impact of the storm, and the art community in New York will not fully recover from the financial or cultural cost for years. With efforts like this residency, the spirit of the New York art community is rebounding stronger than ever." Biggs is the perfect New York artist to reflect on the metaphors and perhaps lessons coming out of the devastation from Sandy. She will spend her residency interviewing and recording fellow artists' experiences of the storm, filming in and around the Château. "My work often focuses on intense individuals and their responses to difficult, unexpected, and extreme situations," Biggs describes. "This dramatic and unique environment will provide a startling context to the stories of loss and rebirth." LNAF will provide Biggs and the other Beyond Sandy residents with living and studio space, meals, and housekeeping. With the kind support of a special Pollock-Krasner Foundation grant, the artists will be awarded a stipend to help defray additional costs.
About La Napoule Art Foundation – LNAF is an American, not-for-profit 501(c)(3) that offers international residencies and exhibitions; and maintains a museum at the Château de La Napoule to preserve and promote the work, story, and home of American artists, Henry and Marie Clews. Founded in 1951 by Marie Clews to promote intercultural understanding through the arts, LNAF has been hosting resident artists for over 60 years. At the heart of LNAF's mission, Artist-in-Residence programs offer time and space for creative minds to engage in meaningful cultural exchange.
The Château de La Napoule is located in the historic seaside town of Mandelieu-La Napoule on the French Riviera. Situated on a spectacular site overlooking the sea, the structure dates to the 14th century and is recognized in France as a monument historique for its incredible restoration and architectural details. Six acres of magnificent gardens surround the property.
About Moving Image – Moving Image was founded by Edward Winkleman and Murat Orozobekov to offer a unique viewing experience with the excitement and vitality of a fair, while allowing moving image-based artworks to be understood and appreciated on their own terms. Moving Image New York 2013 featured a selection of international commercial galleries and non-profit institutions presenting single-channel projections, video sculptures, and other larger video installations.
###
For additional information about LNAF and LNAF programs please visit www.LNAF.org or contact, Jessica Sleevi, Program Director at Jessica@clews.org.