La Napoule Art Foundation Holds 60th Anniversary Gala at Chateau de La Napoule, France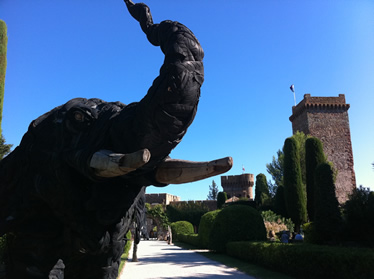 La Napoule Art Foundation (LNAF) will hold a Gala Dinner on April 15, 2011 in celebration of its 60th Anniversary at the Chateau de La Napoule, France. The Gala is being held under the patronage of H.E. Charles H. Rivkin, U.S. Ambassador to France, and in the presence of Diane Kelly, Consul General of the United State of America in Marseille. Other distinguished guests will include American and European dignitaries, Foundation supporters, and artists.
LNAF Chairman and President, Christopher and Noele Clews, will officially present the first Prix de La Napoule to Serge Van de Put. The Gala will also mark the official addition of Serge's monumental work Dumbo, made from recycled tires, to the collection of outdoor sculpture in the Chateau de La Napoule gardens. As the first recipient of the prestigious Clews fellowship, awarded annually to an established sculptor, Serge will spend a year at the Chateau. He will have his own studio space to work, be given the opportunity to have an exhibition throughout the Chateau gardens, and conduct workshops with school children.
LNAF is an American Foundation established by Marie Clews in 1951 to promote the artistic work of her husband sculptor Henry Clews (1876-1937), to preserve their Chateau in Southern France, and to develop an international arts center at the Chateau. This Gala will celebrate the Foundation's illustrious past. Over the past 60 years, the Clews Center for the Arts at the Chateau de La Napoule has served as a vital inspirational force, stimulating artistic expression in many forms and providing innovative programs that foster the next generation of artists, building on the creative spirits of Marie and Henry Clews. Over the years, the Chateau has welcomed performers such as pianist Van Cliburn and hosted many art exhibitions, including Salvador Dali and Picabia. The Residency Program has brought hundreds of artists (from all disciplines and over 40 countries) to the Chateau, including Nobel laureates Gao Xingjian and Derek Walcott. The program has given them the time, space, and freedom to work on their projects. The museum, open every day of the year, brings thousands of visitors annually to experience the mystical world of Henry Clews's sculpture and the historic Chateau and gardens. Children's programming at the Chateau ensures that future generations continue to create, appreciate, and understand art.
As the Foundation looks to the future, it continues to enhance the Residency Program, to remain current and relevant in the cultural art scene and the global community, and to develop new and effective ways of collaborating with other institutions and organizations.
LNAF is incorporated as an America nonprofit 501(c)3 organization and recognized as an association loi in France. The organization follows the initial mission established by Marie Clews:
To operate the Chateau de La Napoule as an international center for nurturing and inspiring the talents of artists from all nations
To foster the creative processes as a means of advancing international understanding
To develop international programs grounded in our French and American heritages
To restore, preserve, exhibit and promote the Chateau, its gardens, and the art of Henry and Marie Clews