La Napoule Art Foundation Awards French Riviera Residency to Artists Affected by Hurricane Sandy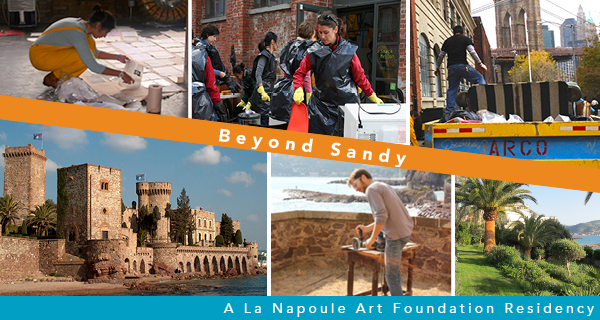 New York, NY – La Napoule Art Foundation (LNAF) is pleased to announce the selection of eleven New York City area artists to attend the Beyond Sandy Residency at the Château de La Napoule in La Napoule, France. This month-long program, beginning in October 2013, will provide artists who suffered the most devastating effects of Hurricane Sandy a time and place for respite, reflection and creation. Congratulations to:
2013
Golnar Adili | Janet Biggs | Jennifer Dalton
John Gordon Gauld | Christian Maychack
Monika Sziladi | Michael Wang
Ghost of a Dream (Lauren Was & Adam Eckstrom)
2014
Michael Benson | Tad Mike
The storm flooded galleries and studios with a toxic combination of salt water, sewage, and gasoline. John Gordon Gauld, whose studio was in Red Hook Brooklyn, described that "after the flood it looked like an earthquake had hit. I got rashes and my skin burned from working in the water for weeks." Artists lost entire studio and storage spaces, homes, materials and irreplaceable bodies of work. In addition to the financial burden, they faced the difficult task of rebuilding – often from scratch.
"Hurricane Sandy was another tragic reminder of vulnerability – even in a resilient city like New York. In many cases, neither galleries nor artists were insured for such crippling losses," said Allyson Melchor, an LNAF Trustee who lives in Manhattan and has spearheaded the Beyond Sandy Residency. "It has been wonderful to see the prompt and generous acts of support in the art world. At LNAF, we saw a niche opportunity to contribute, in a small way, to the recovery process."
The program provides artists with living and studio space, meals, and housekeeping. With the kind support of a special Pollock-Krasner Foundation grant, the artists will be awarded a stipend to help defray additional costs.
The inspiring setting of the Château de La Napoule, however, is what sets this program apart. American expatriates Henry and Marie Clews purchased and restored the Château after World War I, transforming the building and grounds into a haven for creative minds. The couple's eccentric lifestyle included a stream of guests, including many influential creative and artistic visionaries of their time. Frederick Delius, Pablo Picasso, and Van Cliburn were visitors. Natasha Clews Gallaway, great-granddaughter of Henry and Marie, and Chair of the Residency Committee shares, "It was their dream to offer the retreat they created for themselves to nurture artists for generations to come. At LNAF, we are proud to continue this legacy today with a formal Artist-in-Residence Program."
Removed from the distractions of daily life and surrounded by the spectacular views and light of the Mediterranean, LNAF offers resident artists the unencumbered setting to exchange ideas and create. "So many past residents have described the unfettered creativity they have found at La Napoule, and I can't think of a more deserving or accomplished group to benefit from this opportunity," says Gallaway.
About La Napoule Art Foundation – LNAF is an American, not-for-profit 501(c)(3) that offers international residencies and exhibitions; and maintains a museum at the Château de La Napoule to preserve and promote the work, story, and home of American artists, Henry and Marie Clews.
Founded in 1951 by Marie Clews to promote intercultural understanding through the arts, LNAF has been hosting resident artists for over 60 years. At the heart of LNAF's mission, Artist-in-Residence programs offer time and space for creative minds to engage in meaningful cultural exchange.
The Château de La Napoule is located in the historic seaside town of Mandelieu-La Napoule on the French Riviera. Situated on a spectacular site overlooking the sea, the structure dates to the 14th century and is recognized in France as a Monument Historique for its incredible restoration and architectural details. Six acres of magnificent gardens surround the property.
###
For additional information about LNAF and LNAF programs please visit www.LNAF.org or contact, Jessica Sleevi, Program Director at Jessica@clews.org