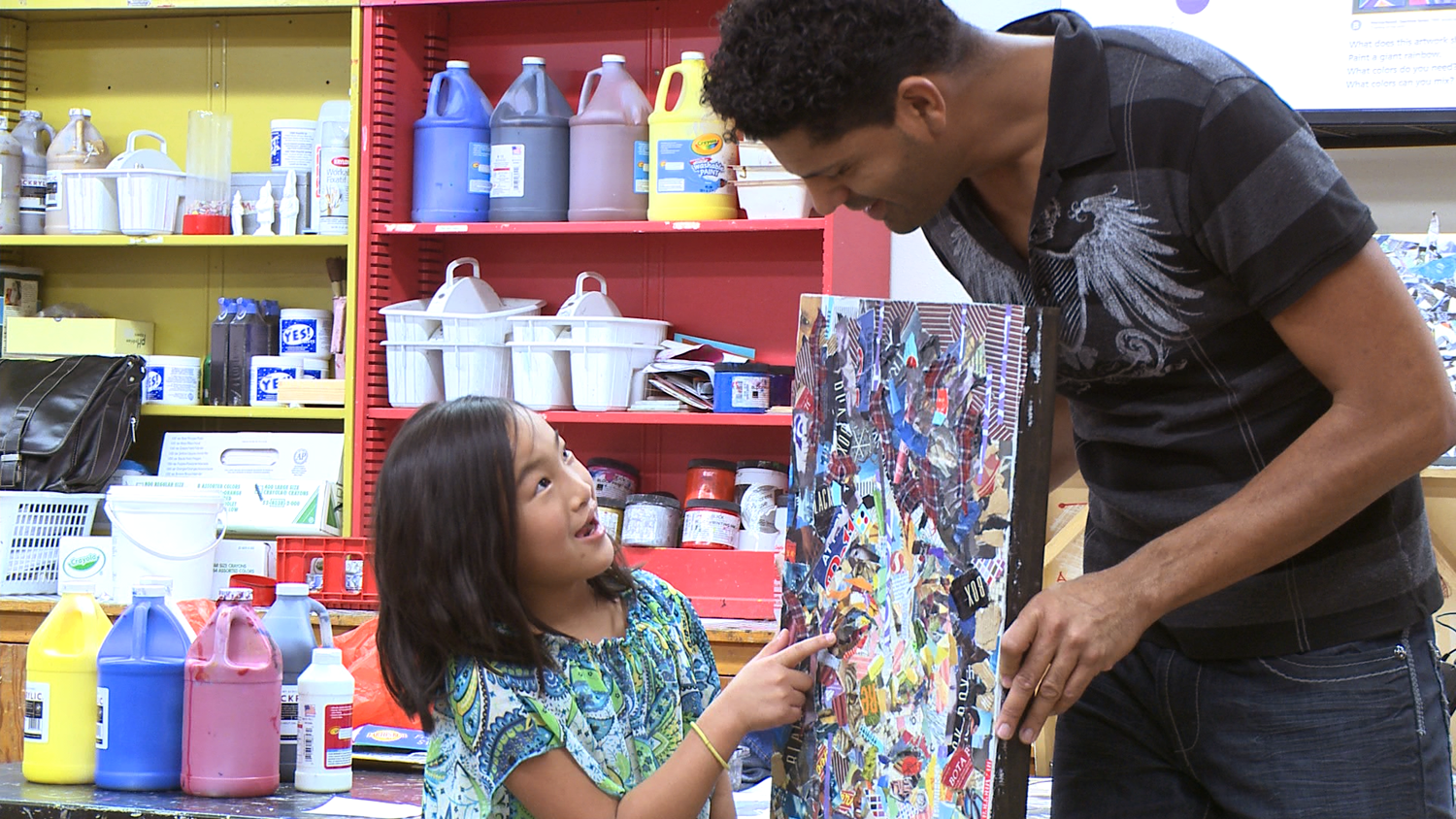 Outreach
To foster the next generation of artists and 21st century thinkers, LNAF strives to make the arts accessible to all through outreach and exhibitions in the community.
See Outreach in Action [video]       Apply to Become a Visiting Artist
Visiting Artist Program
A customized, collaborative arts opportunity for schools, the Visiting Artist Program pairs residency alumni with public schools in need, offering an immersive experience in the arts to children of all socioeconomic backgrounds.
Arts Education
Customized art projects meet the unique needs of each school's population.
Art Supplies
All materials are provided for whatever project is imagined.
Community Building
Creating lasting relationships between the artist and the school establishes a cultural gateway to the community.
Professional Development
Artists serve as mentors to teachers, offering exposure to new genres and infusing the school with contagious creative energy.
Cultural Exchange
Artists are given special consideration for a Residency in La Napoule, France and share that experience with the school community when they return.
-
WHY BRING ART INTO SCHOOLS?
From decreasing stress to building confidence or offering an alternative avenue for success and personal expression, the arts have been shown to enrich a child's life on a fundamental level that impacts their most basic development.
"For minority and low-income students, research shows that students with meaningful arts exposure are four times more likely to have high academic achievement and three times more likely to have high attendance."

– Reinvesting in Arts Education, President's Committee on the Arts and the Humanities, 2011
+
BRING THIS TO MY SCHOOL
Increasing access to meaningful arts experiences and education is our goal. The Visiting Artist Program was developed to fill a need in underserved areas where access to arts education was limited. However, it can also complement an existing program in schools that have an arts curriculum. It is customized to meet the unique needs of each school. If you would like to help bring this program to the school where you work or that your child attends, contact our Program Director at lnaf@clews.org.
+
BECOME A VISITING ARTIST
If you are a professional artist with a passion for supporting the next generation of artists and creative problem-solvers, you may be just who we are looking for! Artist mentors work directly with students for several days in the classroom and then enjoy a lasting relationship with the school community for years to come. Artists also participate in a four-week residency at the Château de La Napoule in the South of France, sharing this experience with the children when they return. To become involved, please apply at https://lnaf.slideroom.com/#/permalink/program/23784.
- Ashley Elementary
- C3 Elementary
- Hallett Elementary
- JEKL Foundation
- Park Hill Elementary
- Smith Elementary
- Stedman Elementary

Please help us grow our outreach programs so that we can expand it into more schools in Denver and beyond and continue to host accessible exhibitions for audiences of all ages. Your contribution will have a lasting effect on our communities, their children and their futures.

DONATE